Yellowface by R. F. Kuang
Yale graduates June Hayward and Athena Liu are supposed to be a pair of breakout literary darlings. The two have worked hard on their debuts, they've polished their manuscripts, and pitched to agents in hopes of deals and adaptations.
As it transpires, only Athena manages to work her magic keystrokes, gaining an all access pass to the literary kingdom, rising through the ranks, and appearing on all the bestseller lists. Meanwhile, her friend June is left lurking in the shadows with a flopped debut. Hayward wonders, what does it feel like to be Athena Liu?
While celebrating Liu's Netflix deal one night the two end up back at her apartment and a freak accident causes Athena to die right before June's eyes. Moments before, the two had conversed over Liu's unpublished manuscript for her forthcoming book, one she hadn't shown a single soul; The Last Front, a novel about the unsung contributions of Chinese labourers during World War I. After reading just a few lines, June can tell "this book is going to dazzle."
Before leaving the scene, Hayward convinces herself she'd be doing her friend a good deed by taking the manuscript home and working on it as a way to hold the torch for Athena.
She gets her agent to review it, who then pitches to the Big Five in publishing, which leads to a bidding war for Athena's (now Hayward's) work. June realizes that it's too late to back out now. Besides, she's done all the editing and even some research, so The Last Front is practically her own.
Publishing moves at a snails pace, but it's not long before June has been rebranded under the pen name Juniper Song, and The Last Front is released to critical acclaim. She might still be living in the shadow of Liu's work, but she's relishing in the all star treatment. Is this what it feels like to be Athena, wonders June?
With so much praise, there's always backlash, and it comes in the form of tweets from an anonymous account @AthenaLiuGhost, claiming to know the work is not hers, and also a reporter who questions Juniper's motives on writing about such a topic.
Juniper Song pushes forward, somewhat convincing the industry, her fans, friends, and even at times, her very own self that she is where she is because of her own determination. However many remain skeptical.
And June herself soon realizes that when she's out of the spotlight, she craves it even more, and to get back there she may need to steal again. Is it worth it? June begins to wonder, "Without Athena, who am I?"
With themes of diversity and cultural appropriation, and a fascinating look into the publishing industry, Yellowface is a revealing and powerful novel. I loved that Kuang, who typically writes about fantasy, explored this new genre. Overall, Yellowface is unputdownable. I read it in less than a day.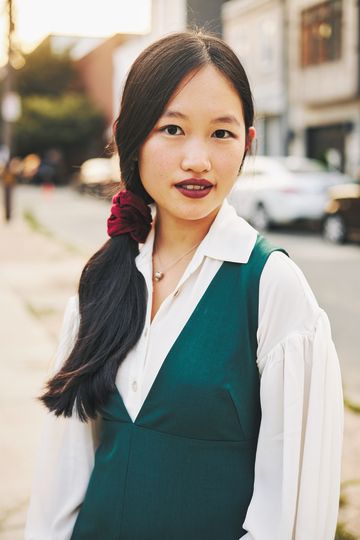 Mike Styer Photographer
Rebecca F. Kuang is a Marshall Scholar, Chinese-English translator, and the Astounding Award-winning and the Hugo, Nebula, Locus, and World Fantasy Award nominated author of the Poppy War trilogy and Babel. Her work has won the Crawford Award and the Compton Crook Award for Best First Novel. She has an MPhil in Chinese Studies from Cambridge and an MSc in Contemporary Chinese Studies from Oxford; she is now pursuing a PhD in East Asian Languages and Literatures at Yale.
Yellowface is available for order, releasing May 16 in hardcover, e-book, and audiobook. Check Bookshop or Libro.fm.