Aesthetica by Allie Rowbottom
"The needle was small, but when it met my mouth, it spread pain through my face like a burn. "Perfect," Shonda said. She wiped the blood away, handed me an ice pack, a mirror. I looked to the glass and that's when I saw it: instant growth, instant healing, instant transformation. Like a drug, straight to the vein. And instantly, I wanted more."
AESTHETICA
At 19, she was an Instagram celebrity. Now, at 35, she works behind the cosmetic counter at the "black and white store," peddling anti-aging products to women seeking physical and spiritual transformation. She, too, is seeking rebirth. She's about to undergo the high-risk, elective surgery Aesthetica™, a procedure that will reverse all her past plastic surgery procedures, returning her, she hopes, to a truer self. Provided she survives the knife.
But on the eve of the surgery, her traumatic past resurfaces when she is asked to participate in the public takedown of her former manager/boyfriend, who has rebranded himself as a paragon of "woke" masculinity in the post-#MeToo world.
With the hours ticking down to her life-threatening surgery, she must confront the ugly truth about her experiences on and off the Instagram grid.
What I thought
This book completely floored me. As I write this, it's been weeks and I'm still trying to gather my thoughts.
There were moments I was reading and I wondered where it was going, but I just couldn't pry myself away. I wanted to put it down at times, but I physically couldn't. It wasn't until I finished Aesthetica that I realized the impact of this novel.
Anna Wrey, the protagonist, is still living inside my head, the plot playing on repeat.
The description above from the publisher doesn't give much away, and neither will I, but Rowbottom's debut is essentially about a young woman who moves to Los Angeles in search of social media stardom.
She has the opportunity to grow her platform when she's approached by an older male influencer who becomes her manager and promises to take care of her.
While @annawrey is finding fame to a growing account of followers who come to know her by her glossy filtered and Facetuned image, the real Anna is being sucked into an abusive and toxic world offline.
Aesthetica is written through alternating timelines, following Anna as a young woman pursuing her dream, and later on looking back as she tries to return to her former-self before the plastic surgery procedures that changed her life.
This is a distressing read at times because as a witness you want to do something to stop what's happening but ultimately, you can't. With the author's prose being so vivid, each scene comes to life, and that can feel unsettling. I did have to remind myself throughout, this story is fiction. Anna is not real. However, part of this is also the world we live in.
Rowbottom did a great job addressing how obsessed our society is with social media and the pressure to conform to image stereotypes, and how we may be losing our real selves to our virtual selves. This was frightening.
Aesthetica was a beautiful, but also heartbreaking, portrayal of lost friendships and mother/daughter relationships.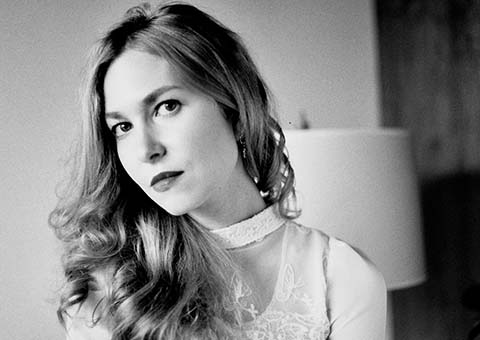 Courtesy of Soho Press
Allie Rowbottom's critically acclaimed debut memoir, Jell-O Girls was a 2018 NYT Editor's Choice Selection, Amazon Best Book of the Month, Indie Next Pick, and Real Simple Best Book of the year. Allie's essays and short fiction can be found in Vanity Fair, Salon, Lit Hub, No Tokens, NY Tyrant, The Drunken Canal, Alta Journal, Bitch and elsewhere. She holds a PhD in literature and creative writing from the University of Houston and an MFA from the California Institute of the Arts and has taught fiction and non-fiction at the University of Houston, CalArts, and Catapult. She lives in Los Angeles.