Acceptance by Emi Nietfeld
"I took for granted that, no matter what happened in my life, I could escape into my ambitions; they would transport me to a future where the way I grew up couldn't matter less."
ACCEPTANCE
As a homeless teenager writing college essays in her rusty Toyota Corolla, Emi Nietfeld was convinced that the Ivy League was the only escape from her dysfunctional childhood. But upward mobility required crafting the perfect resilience narrative. She had to prove that she was an "overcomer," made stronger by all that she had endured.
The truth was more complicated. Emi's mom was a charming hoarder who had her put on antipsychotics but believed in her daughter's brilliance—unlike the Minnesotan foster family who banned her "pornographic" art history flash cards (of Michelangelo's David). Emi's other parent vanished shortly after coming out as trans, a situation few understood in the mid-2000s.
Her own past was filled with secrets: mental health struggles, Adderall addiction, and the unbecoming desperation of a teenager fending for herself. And though Emi would go on to graduate from Harvard and become a software engineer at Google, she found that success didn't necessarily mean safety.
What I thought
It's taken some time to compile my words around Emi Nietfeld's Acceptance. It's such a courageous and exceptional memoir that I can't recommend it enough.
The opening pages give a glimpse into the life Nietfeld has carved out for herself as she plans for her approaching wedding to her fiancé Byron. It felt good knowing I could return to this place of comfort throughout, especially when faced with what was to come.
The book then moves back in time to Emi's childhood, and gives a sense of her dysfunctional family and environment she grew up in.
Nietfeld talks of her mother's upbringing in a home where "her parents starved their daughters, allowing each of them a can of Metrecel diet drink for breakfast and making them do calisthenics while chanting songs in unison." The effects of this caused her mother to battle with her weight, chronic illness and hoarding.
By ten, Emi's father had come out as trans and changed her name to Michelle. Despite attempts to live with Michelle when her parents separated, Emi's mother won the custody battle. "I'd see her [Michelle] a few more times that month; then, after one phone call, we'd never have another conversation," writes Emi.
Her mother, a government employee with health insurance then convinced doctors that her daughter had ADD (attention deficit disorder). "The pediatrician gave me Concerta. When I freaked out, I got Xanax. After a few weeks of Wellbutrin, my mom fed me her leftover Adderall just as a trial," she writes.
A minor at the time, Nietfeld had no autonomy over what was happening to her, and the immediate response of the healthcare system was not to listen to her, but to medicate her.
"What did it take to get help? I was supposed to be honest, but sometimes honesty closed doors. I'd fall through the cracks if I didn't ask for what I needed again and again; I'd get punished for manipulation if I did."
Emi was around thirteen when she checked into a psych ward, where she found solace away from a filthy home and unbearable living conditions.
"The psych ward felt like the one place I could be a kid," Emi says, "I understood why I came back again and again."
After another hospitalization and residential treatment, she was discharged into foster care. Matters spiralled out of control at home with her conservative foster family, and she self-soothed with destructive coping mechanisms.
While in hospital, Emi had set her sights on achieving admission to an Ivy League college. It felt that she was the only one who believed wholeheartedly in this dream, and she didn't give up.
When she was accepted into Harvard, it wasn't the non-linear path she had hoped, and was the beginning of yet another obstacle course to overcome.
Despite everything she had been through, Emi Nietfelt was determined to carry on.
Acceptance is an incredibly powerful and inspiring story. Add it to your list.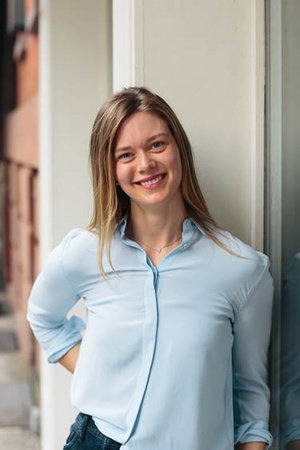 Courtesy of Random House
Emi Nietfeld is a writer and software engineer. After graduating from Harvard College in 2015, she worked at Google and Facebook. Her essays have appeared in The New York Times, The Rumpus, Vice, and other publications. She lives in New York City with her family.
Acceptance by Emi Nietfeld is available for purchase in hardcover, ebook, and audiobook format. Find it at an independent bookstore near you on Indiebound.