Burn Rate by Andy Dunn
"Thanks to my ghost, I came within an inch of losing the woman who is now my wife, the company, and everything I cared for in the world. Here's the thing: I still live with it — but the Ghost, my diagnosis of bipolar disorder, isn't a secret anymore. It has taken five years of therapy to be able to write those words."
BURN RATE
At twenty-eight, fresh from Stanford's MBA program and steeped in the move-fast-and-break-things ethos of Silicon Valley, Andy Dunn was on top of the world. He was building a new kind of startup—a digitally native, direct-to-consumer brand—out of his Manhattan apartment. Bonobos was a new-school approach to selling an old-school product: men's pants. Against all odds, business was booming.
Hustling to scale the fledgling venture, Dunn raised tens of millions of dollars while boundaries between work and life evaporated. As he struggled to keep the startup afloat, Dunn was haunted by a ghost: a diagnosis of bipolar disorder he received after a frightening manic episode in college, one that had punctured the idyllic veneer of his Midwestern upbringing. He had understood his diagnosis as an unspeakable shame that—according to the taciturn codes of his fraternity, the business world, and even his family—should be locked away.
As Dunn's business began to take off, however, some of the very traits that powered his success as a founder—relentless drive, confidence bordering on hubris, and ambition verging on delusion—were now threatening to undo him. A collision course was set in motion, and it would culminate in a night of mayhem—one poised to unravel all that he had built.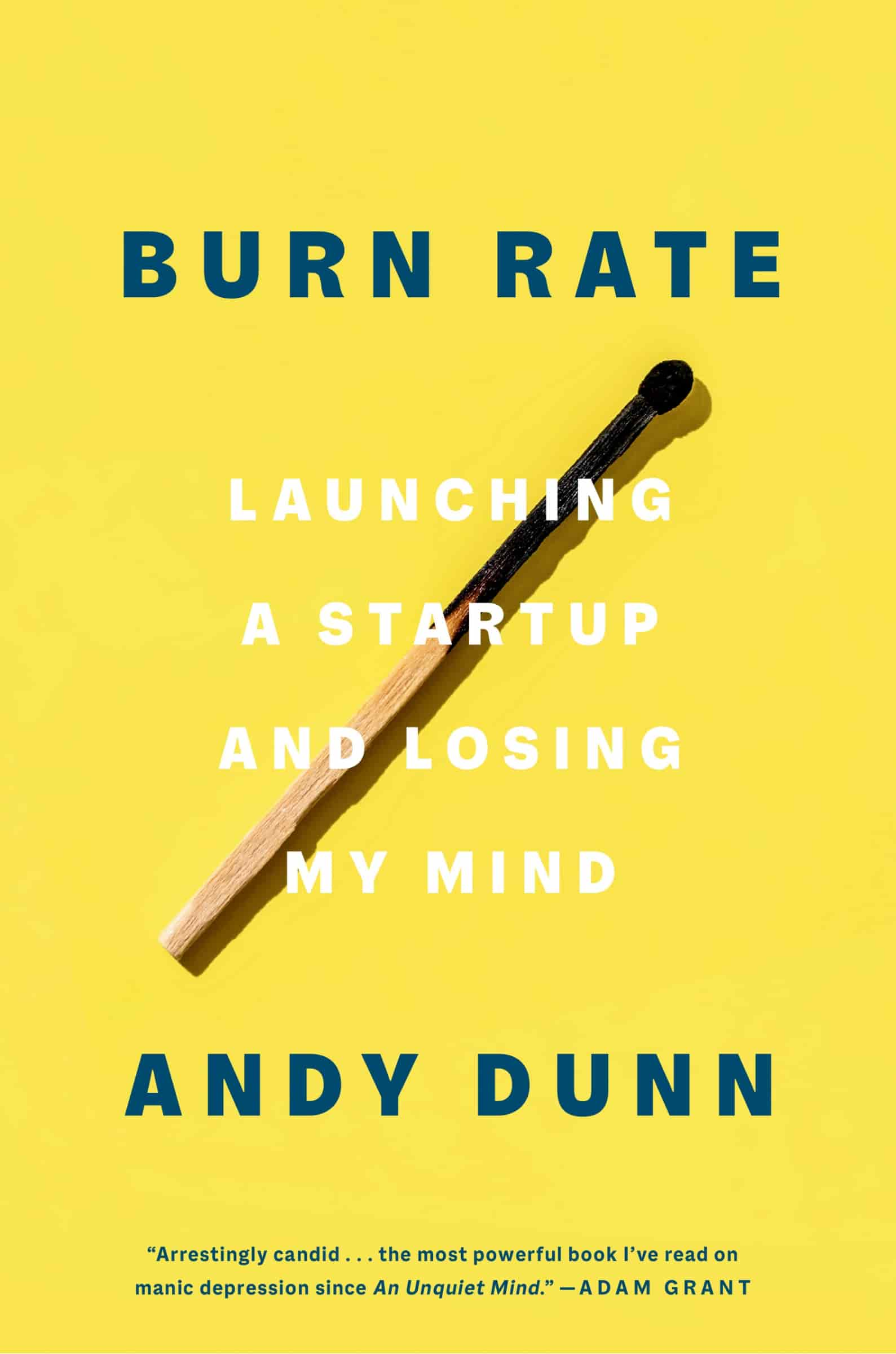 What I thought
Introducing the book, Andy Dunn writes, "This is a book about mental illness told by an entrepreneur lucky to have made it to the other side, even if the other side is an impermanent place full of surprises."
Andy Dunn experienced his first manic episode in the year 2000 while studying at Northwestern University. The symptoms he had were what he came to later understand were indicators of ascending hypomania, including feeling "upbeat, jumpy," and having increased energy and agitation, among other things.
His mood continued to climb from hypomania to mania, and two decades later, he describes those days with such accuracy.
"Hypomania is talking excitedly about the guy you just met who you are going to marry. Mania is talking excitedly about the watermelon you just ate that is the reincarnation of your grandfather. Hypomania is a vibrant experience of reality. Mania is inventing your own reality, living out your unconscious in Technicolor."
Dunn's millennium episode and Bipolar 1 diagnosis is dealt with the way all mental illness is within his family, put into a sealed box and never spoken of again.
Andy continues on in life in spite of his diagnosis and ends up at the renowned Stanford Business School, where he meets Brian Spaly, his future business partner.
What's interesting in the chapters that follow, is that the reader has an opportunity to learn about the creation of menswear startup Bonobos, and what roles Brian, Andy, and Andy's Ghost — his bipolar disorder had to play.
The middle part of the book reads like a rollercoaster ride, one moment Andy is up, the next he's down, much like the illness itself. I coursed through this part of the book at a rapid pace, unsure where it would take me. Dunn was relying heavily on caffeine and alcohol to make it through the day, and his mood swings were wrecking havoc on Bonobos.
"When you associate yourself with vibrancy, when others associate you with contagious positive energy, you must appear to love life when you're around others. If you can't be the person you want to be when you're sober, maybe you can become that person when you're drinking," writes Dunn, continuing, "Substances become critical to this endeavor, and so mental illness and addiction become interlaced. The life of the party is almost always dying inside."
His depression reached a low point at several times throughout the book, and he sought out help. At first, he spoke with a therapist named Rachel, who referred him to a psychiatrist for medication, which in itself was a huge stride forward for Dunn. He started taking Lamotragine, a medication originally used to treat epileptic seizures, but also helpful as a mood stabilizer. The problem with Lamotragine is the side effect of a life-threatening rash called Stevens-Johnson syndrome.
Unfortunately for Dunn, he woke with a rash the morning after taking his dose, and discontinued the medication immediately. After summoning up the courage to take medication, he felt doomed, and it would be a long time until he tried again.
Nearing the end of his memoir, Dunn talks of how his depression hit a low point yet again when he stepped down as CEO of Bonobos and into the role of chairman of the board. He flew to China for what he hoped would be a dream sabbatical.
"For the six weeks I was there, I couldn't get out of bed before two P.M," he writes, continuing, "Bonobos had not been the source of my depression; it had been the one thing that kept depression's severity at bay. Without the grueling schedule of being a startup's CEO, one where I had to pull myself out of a funk every Monday morning as best I could during depressive episodes, I had nothing tethering me to a routine."
Dunn's memoir as a whole resonated, but that one paragraph in particular will stay with me. Through the years, having an incredibly busy job has been one thing that has kept me afloat. When I was diagnosed with bipolar, and hit a pause on work for treatment, without a rigid schedule or pressing deadline to adhere to, I noticed a sudden overwhelming shift in mood, as Dunn describes.
To conclude, this was an astoundingly courageous and well-written memoir. I was blown away by Andy Dunn's story, and hope that all of those diagnosed with bipolar disorder, the families who support them, and everyone who is touched by this illness find comfort in Dunn's words.
Andy Dunn by Brian McConkey
Andy Dunn co-founded the ecommerce-driven menswear brand Bonobos in 2007 and served as CEO through its 2017 acquisition by Walmart. As an angel investor and through his venture capital firm, Red Swan, Dunn has backed more than eighty startups, including Warby Parker, Oscar, and Coinbase. Dunn serves on the boards of Monica + Andy, an organic baby-apparel company founded by his sister, and the tech nonprofit Raised By Us. Named to Fortune's 40 Under 40 list in 2018, he is a graduate of Northwestern University and the Stanford Graduate School of Business. He lives in Chicago with his wife and their son.
Burn Rate is available for purchase in hardcover format from Indigo and in e-book and audiobook format from Kobo.