Tomorrow, and Tomorrow, and Tomorrow by Gabrielle Zevin
'"What is a game?" Marx said. "It's tomorrow, and tomorrow, and tomorrow. It's the possibility of infinite rebirth, infinite redemption. The idea that if you keep playing, you could win. No loss is permanent, because nothing is permanent, ever."'
TOMORROW, AND TOMORROW, AND TOMORROW

On a bitter cold day, in the December of his Junior Year at Harvard, Sam Masur exits a subway car and sees, amid the hordes of people waiting on the platform, Sadie Green. He calls her name. For a moment, she pretends she hasn't heard him, but then, she turns, and a game begins: a legendary collaboration that will launch them to stardom.
They borrow money, beg favours, and, before even graduating from college, they have created their first blockbuster, Ichigo: a game where players can escape the confines of a body and the betrayals of a heart, and where death means nothing more than a chance to restart and play again. This is the story of the perfect worlds Sam and Sadie build, the imperfect world they live in, and of everything that comes after success: Money. Fame. Duplicity. Tragedy.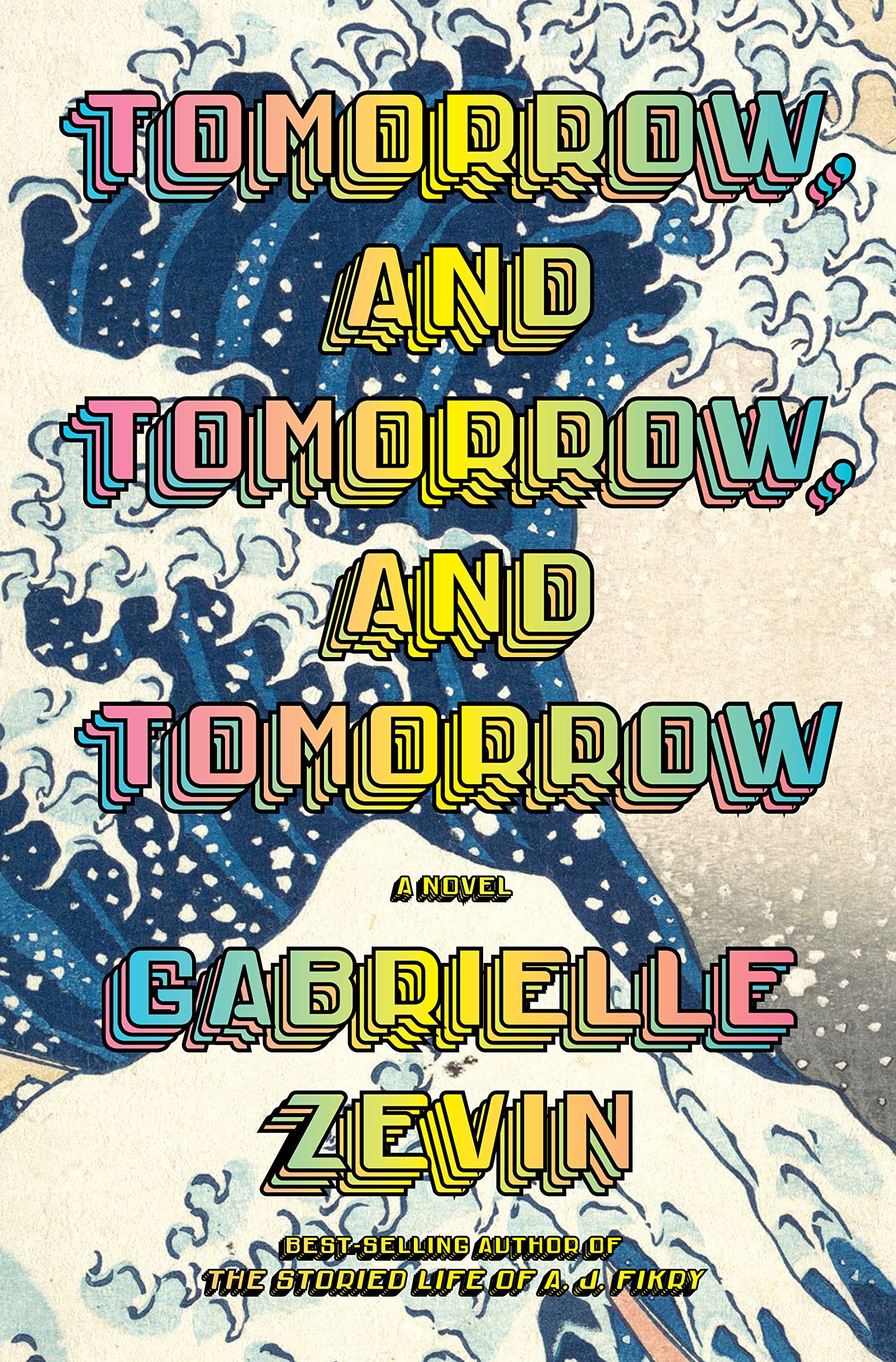 What I thought
I came across Gabrielle Zevin's novel on my Instagram feed a number of month's ago when the spectacular cover was revealed to the world. I knew then and there that I had to read it. As soon as I received my advanced copy, I studied several excerpts, read every review on
GoodReads
, and literary reviews from
The Washington Post
,
Publishers Weekly
, and
Kirkus
.
While being introduced to the world of video games, three unforgettable characters, and a new author, I came to the conclusion that Gabrielle Zevin's
Tomorrow, and Tomorrow, and Tomorrow
was both enthralling and adventurous, and was a must-read for
my July column
.
I continued to read, and immersed myself in the world of Sam, Sadie, and Marx over the course of a couple of weeks.
While the theme here is predominantly about friendship and love, there is so much else that Zevin is addressing between these pages.
Readers are introduced to Sam Masur and Sadie Green early on in the book. The two met as kids at the children's hospital by chance while Sadie's sister was battling leukemia, and after an argument with Alice, Sadie ends up in the games room, where she meets Sam. She doesn't know it, but he's lost his mom, Anna, and hasn't spoken to anyone for months.
Sam is playing Nintendo, and the two strike up a conversation and bond over their love of video games.
"They loved to compete, and while they competed, they told each other stories of their relatively short lives."
Sadie continues to visit Sam daily, which for her is an innocent attempt to work up community service hours for her bat mitzvah. At just twelve years old though, Sadie doesn't see this as her doing anything wrong, she's just visiting her friend Sam at the hospital.
Until he finds out from a seemingly jealous Alice, and thinks Sadie is a fake friend, and her charity case, and asks that she never visit him again.
His harsh decision leads to a parting of ways between the two, until a chance meeting brings them together again at a public transit station when they're both in their early twenties.
It's gaming once again, and their magnetic bond that binds them together in later life. It turns out that Sadie still games, and is studying at MIT, while Sam is at Harvard. She has a game she's developed and passes it to Sam to try out. He comes to the conclusion they should make a game together.
We meet Marx Watanabe around this part of the book, Sam's roommate, and an incredibly kind and caring soul, who goes on to become a core character in the book.
Sam, Sadie, and Marx come together to create Ichigo, which is a stunning video game and groundbreaking success within the world of video games. It's the game catapults the three of them into the spotlight, and they go on to form a company called Unfair Games, relocating to California.
Spanning more than twenty years, by the time I reached the end of Gabrielle Zevin's novel, I felt like Sam, Sadie, and Marx were my family. I didn't want to let them go. The side characters like Dov, Ant, and Simon, and even those we meet in the games; I felt as though I had known them my entire life.
What was especially interesting was reading about how the characters had developed over those years. We see it especially with Sadie, Sam, and a little with Marx; how as children, Sam, and Sadie both had the right to play and then as adults, that right is almost taken away. Sam begins to catastrophize and predict the future, which increase his anxiety, meanwhile Sadie tries to portray a much more laidback version of herself as a form of self-protection from future failures. Marx offers the balance between the two.
While there are major themes of gaming throughout, I don't believe you have to be a gamer, or to have ever even played one game in your life to love this novel. Zevin's Tomorrow, and Tomorrow, and Tomorrow is for everyone.
As Marx might say, "It's a goddamn gorgeous" novel.
News to all readers and lovers of this novel, the film rights have been scooped up by Paramount Pictures, more info
here
.
Gabrielle Zevin is the New York Times and internationally best-selling author of several critically acclaimed novels, including The Storied Life of A.J. Fikry, which won the Southern California Independent Booksellers Award and the Japan Booksellers' Award among other honors, and Young Jane Young, which won the South­ern Book Prize. Her novels have been translated into thirty-nine languages. She has also written books for young readers, including the award-winning Elsewhere. She lives in Los Angeles.