The 8 Reading Accessories From Indigo For Every Book Lover In Your Life
I was inspired to create this post following a question from a friend who asked me what she could possibly get another friend of hers who loved books but usually bought everything she wanted herself. So my friend was in a bit of a pickle and didn't know what books this friend of hers already owned and what she didn't.
That's the problem with us book lovers, we already own most of the books we want to read. My bookcase is stuffed full, my cart on Indigo is filled to the brim, my Kindle is at max capacity... you picking up what I'm putting down?
I suggested that perhaps she get her some reading accessories.
"Reading accessories?" She said... "What are those and where would I get them?"
And so, here we are.. my top 8 reading accessories from Indigo for every book lover in your life.
I should also preface this by saying this post is in no way affiliated or sponsored by Indigo. I live 4 blocks from the flagship store and it's one of my self care practices so I'm typically there 3-4 times a week which means I shop there a lot. I'm a huge fan, and I like to support Canadian businesses. I'm receiving absolutely no commission or gifting from this post and these are products that I genuinely love.
I chose this first since I have a beautiful black cat and as soon as I saw this I knew I had to have it. She's usually perched atop whatever book I'm reading when I leave it on any surface in the apartment. I come out of a room and find her in loafing position, covering the entire book. It's like she's jealous that I'm reading and not scratching her face or giving her treats or something. On the other hand, my dog just loves paper, so he's usually nibbling the corners of my books. This kitty cover was pretty much a necessity for me. Thirdly, I carry my books in my tote bag, and they usually get creased since they're rumbling around in there with bottles of water, my wallet, whatever fruit I have in there, and god knows what else, so now I can protect and nurture my novels. Winner all round.
Another necessity for me since I suffer from insomnia and a light like this is a good buddy in the middle of the night when I want to curl up on the sofa to indulge in my latest book without waking up the entire household. Just attach it to the cover of the book, switch her on and you're good to go. This baby is powered by 2 CR2032 batteries, which are available at Amazon for around $10 (10 pack). I believe the lifetime on the 10 pack to be at least one year. This powerful little gadget comes in mint (above), pink, and black.
I've been using receipts, used train tickets, and post-its for months now so it was time. These lovely metal bookmarks come in a set of two, and they're sustainable.
And while we're on the topic of bookmarks. You can never have too many, right? Who doesn't love a monogrammed gift? My own little 'S' bookmark. At only $7.95, this is a fabulous gift. Available in letters A-Z. Indigo also have a selection of mugs and journals that are monogrammed in the same colours. I have both the mug and 7 of the journals - since I journal everyday my boyfriend got me a load of them as a gift recently. I was absolutely chuffed.
I have a cat, dog, cup of piping hot Bengal Spice tea, and usually a pile of post-its to take notes meaning my hands are pretty full while I'm reading, so this book holder is a gift from the gods. It's also available in a nice mint colour.
Another one for all the cat lovers out there. If you're anything like me, you love taking notes as you read. You might be in a book club, reviewing a book for a blog or publication, or perhaps you're just organizing your thoughts. These book buddies are not only cute, they're functional as well.
They say file sorter, I say book sorter. This is a great little accessory to manage your current reads, especially if you're like me, working your way through several genres at one time. Plus it looks super chic on your desk.
Not a fan of wood, prefer something more sleek and modern... well no problem, they got you covered with this acrylic option.
The pièce de résistance and for the one you love the most. The Kobo Libra H20 is the best E-Reader on the market. It's even one of Heather's picks, that's how you know it's good.
It's on my to buy list at some point this year to replace my years old first gen Kindle. This absolute beauty even connects to OverDrive, which means YOU CAN BORROW E-BOOKS FROM YOUR LOCAL LIBRARY! Excited for the day I finally own one.
FINALLY! Want to save more on your purchases at Indigo?
Consider PlumPlus, a VIP Rewards program at $39 per year that offers access to 10% off all purchases (excluding Kobo, unfortunately). I myself just enrolled recently, and I honestly don't know why I put it off for so long, since I've already more than made back my $39. The sign up itself comes with $20 off your first purchase so the first year is actually only really $19.
The staff at my local store breathed a sigh of relief when I enrolled, having seen me come and go on an almost daily basis, arms full of books.
If you're interested in checking out PlumPlus, I'd suggest checking out all the details by clicking the cards below (no affiliation or sponsorship - just a fan), and if $39 isn't in your budget for the year then the free Plum program is great, too. It does take quite a while to rack up points but definitely worth signing up in the end if you find yourself shopping at Indigo a lot.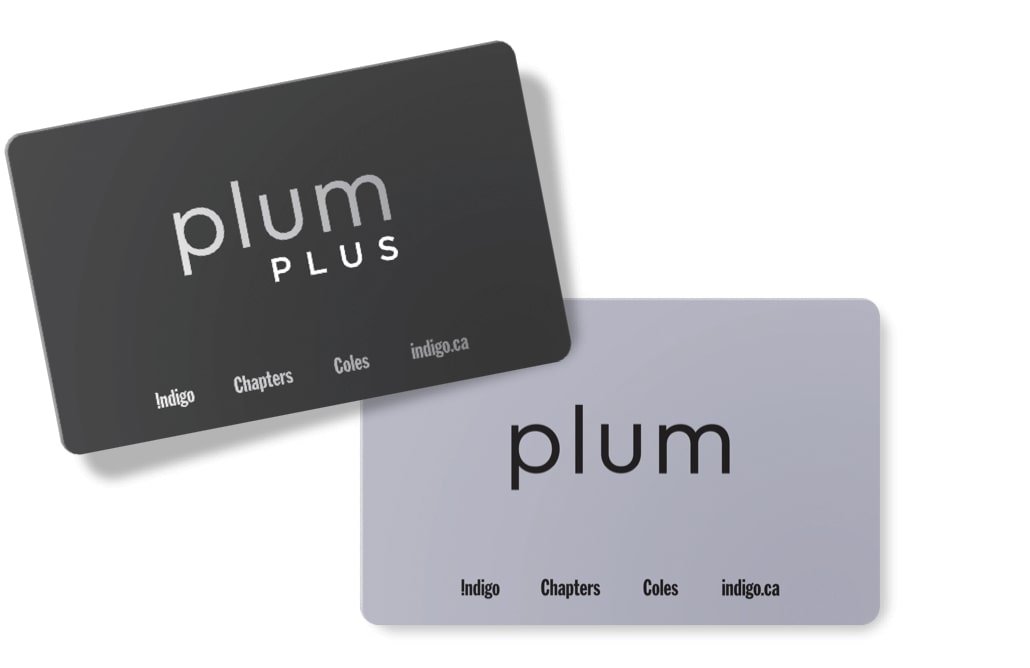 Adios for now, I'll see y'all in line at Indigo!